Low-Cost, Locally Made, Wind Turbine Anchor Cages
A Sydney-based, Australian-owned manufacturing company supporting the renewable energy transition.
Allthread designs and manufactures preassembled anchor cages in its Western Sydney factory, then delivers and installs them on site.
We are national leaders in this space, having supplied more than 1,300 to wind farm developments in Australia, with a further 350 in the pipeline.
Allthread has a mission to support local manufacturers and jobs while reducing environmental impacts. For 50 years we have been providing bolt solutions across OEMs, construction, mining, energy and infrastructure.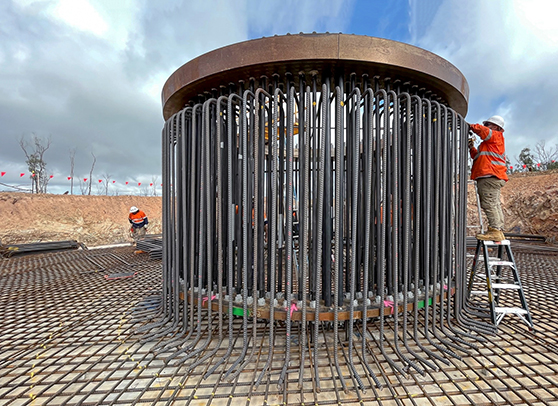 Preassembled and with fast delivery from local facilities, Allthread anchor cages are cheaper to fabricate and quicker to install. Compared to the imported alternative, installing our anchor cages results in a saving of 1-2 days per cage.
Highlighted project examples:
Allthread supplied 75 anchor cages, resulting in a $380,000 saving (around 8% of total cage costs, including installation and labour), and a 75-day time saving.
Allthread is supplying 93 anchor cages. Cost savings are expected to be $700,000 and time savings 93 days compared to imported alternatives.
Commercial, environmental and procurement benefits over imported alternatives:
Cost savings for anchor cages
For a 460MW project with 96 anchor cages.
Reduction in labour time
Installation of each cage takes only 4 hours, compared to 16 hours for imported cages.
Reduction in carbon emissions
Based on an independent Life Cycle Assessment.
Recycled materials
We also reduce waste to landfill with our innovative design.
Australian materials
Local steel and local labour, helping projects meet local content requirements.
CASE STUDY 1: GOYDER WIND FARM – 75 ANCHOR CAGES.
Item

Costs (per turbine)

Jobs created

Details

Locally made

Imported
(incl. 15% discount)

Variation

Anchor cage components

$ 5,170,350

$ 4,394,797

$ 775,552

67

Conservative assumption that imported components could be purchased for a 15% discount. (A 10% discount is more likely.)

ATI* designed grout pocket forming rings

$ 216,000

$ 216,000

3

Grout Pocket Forming Rings are a specialised ATI design. They are reusable and reduce waste to landfill. ATI sold 6 sets to Goyder Wind Farm, enough to build entire wind farm.

Foam ingots for grout pocket trench

$ -

$ 487,500

-$ 487,500

0

Imported products use non-biodegradable foam inserts. These are single use, for one anchor only, then they go to landfill.

Assembly costs

$372,000

$ 864,000

-$ 492,000

5

ATI's method uses 2 people for 4 hours needed on site, compared to 6 people for 16 hours ($120/hr).

Crane hire costs on site related to anchor assembly

$120,000

$ 480,00

-$ 360,000

2

4 hours per anchor for ATI's cages compared to 16 hours per anchor ($400 per hour).

Landfill costs (imported foam ingots, packaging)

$ -

$ 20,000

-$ 20,000

0

This includes transport and landfill fees, with waste estimated at one full bin for every three anchors.

Scrap buy-back of top forming rings

-$12,600

$ -

-$ 12,600

0

Grout Pocket Forming Rings bought back as scrap at end of project.

Total

$ 5,865,750

$ 6,246,297

-$ 380,547

76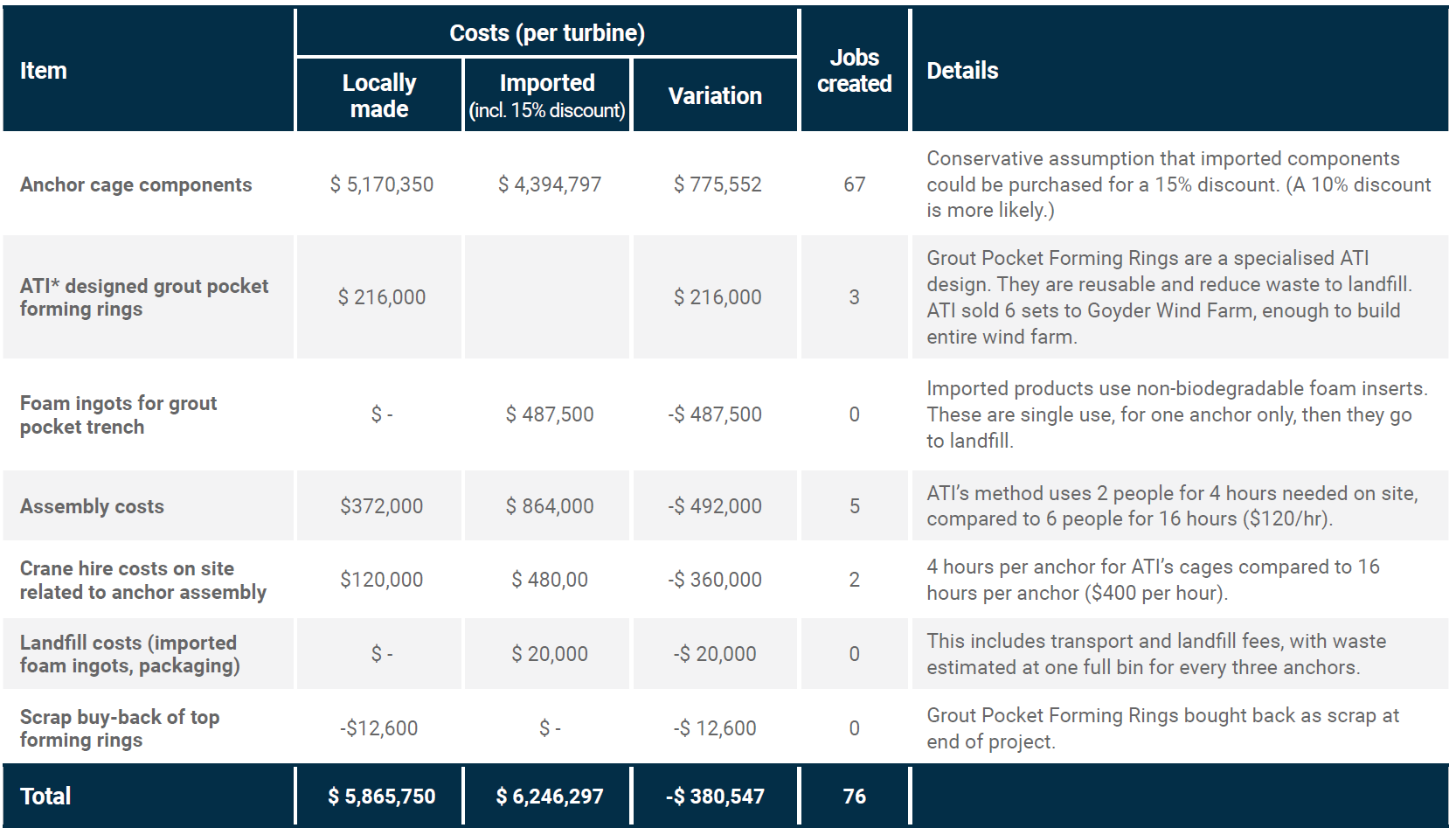 *ATI = Allthread Industries
Case study 2: Golden Plains Wind Farm – 93 anchor cages.
Item

Costs (per turbine)

Jobs created

Details

Locally made

Imported
(incl. 20% discount)

Variation

Anchor cage components

$ 7,914,300

$ 7,370,138

$ 544,162

102

The Vestas design uses more components. Conservative assumption that imported components could be purchased for a 20% discount. (A 10% discount is more likely)

ATI* designed grout pocket Forming Rings

$ 315,000

$ -

$ 315,000

4

Grout Pocket Forming Rings are a specialised ATI design. They are reusable and reduce waste to landfill. ATI sold 9 sets to Golden Plains Wind Farm, enough to build entire wind farm.

Foam ingots for grout pocket trench

$ -

$ 465,000

-$ 465,000

0

Imported products use non-biodegradable foam inserts. These are single use, for one anchor only, then they go to landfill.

Assembly costs

$ 461,280

$ 1,071,360

-$ 610,080

6

ATI's method uses 2 people for 4 hours needed on site, compared to 6 people for 16 hours ($120/hr).

Crane hire costs on site related to anchor assembly

$ 148,800

$ 595,200

-$ 446,400

2

4 hours per anchor for ATI's cages compared to 16 hours per anchor ($400 per hour).

Landfill costs (foam ingots, packaging)

$ -

$ 24,800

-$ 24,800

0

This includes transport and landfill fees, with waste estimated at one full bin for every three anchors.

Scrap buy-back of top forming rings

-$ 18,900

$ -

-$ 18,900

0

Grout Pocket Forming Rings bought back as scrap at end of project.

Total

$ 8,820,480

$ 9,526,498

-$ 706,018

114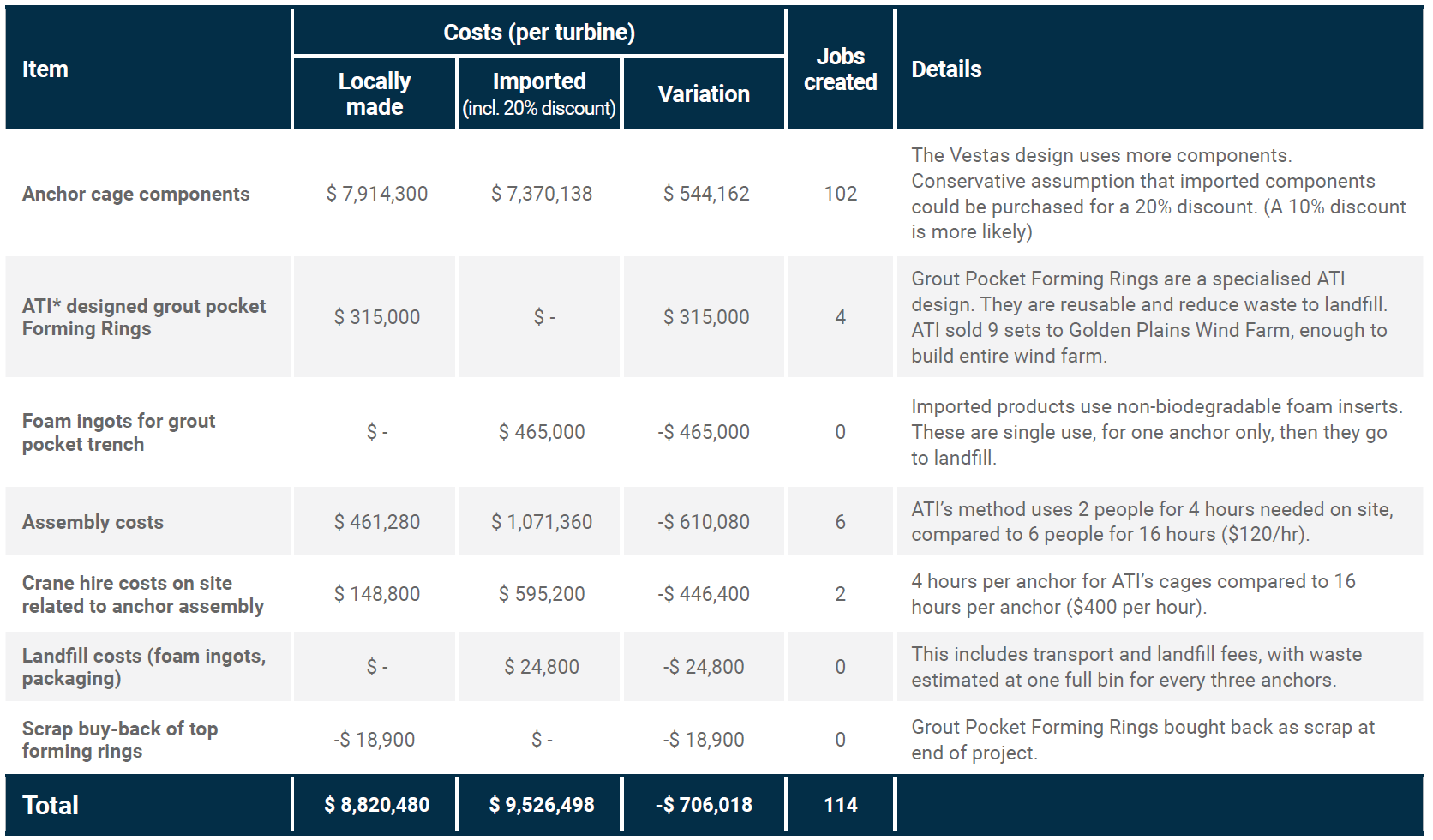 *ATI = Allthread Industries